Raspberry jam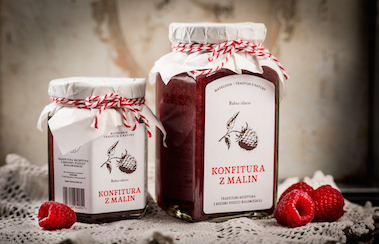 ingredients
organic raspberries (60%), cane sugar (25%), water, apple pectin, ascorbic acid (vitamin C), 100g of the finished product has been prepared using 60% fruit. This natural, healthy product does not contain dyes, flavor enhancers, flavor fillers, genetically modified products or preservatives. The product is pasteurized. Refrigerate after opening.
100g of products contains on average
Energy value: 5300 kJ / 126.5 kcal, fat 0.2g including saturated fatty acids 0.0 g, carbohydrates: 32.2 including sugars 25.6 g, proteins 0.8 g, salt 0.0 g.
Health benefits
The wild raspberry is used in treating illnesses with fevers, most often colds and the flu. They have fever reducing qualities and promote sweating. Raspberries are also an undervalued source of vitamins such as vitamin C, B2, PP and the provitamin A.
The product is offered in two sizes:
200g, 300g